Well after my last post, I do admit that I was quite peeved at people, but since I wrote it a couple of days have passed, and my anger has subsided. I'm not sick of people in general, but my feelings of disgust and anger have concentrated more on just a group of people causing the problems. Otherwise I'm much better...I'm actually in a good mood, and even have some good stitchy news to share!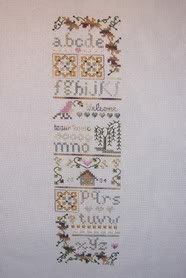 I have another happy dance to show! I managed to finish off
another
Christmas gift last night - this time for my niece. Its called Spring Morning by Lavender Wings. I did a few changes to it though to personalize it more... in the middle area there is that little bird thing and tree, well there where the words are according to the original pattern are supposed to be my initials and date stitched, instead I added "Welcome to our home", then further down where the little house is, the original pattern had two houses, I only did one and then added the year that my niece and her fiance moved into their own house. I like the way it turned out and I will definitely be stitching it again a little later for myself, I especially enjoyed stitching with the silk floss in it. I was pleasantly surprised at how quickly it stitched up - I think it took longer for the silks to arrive than it did to stitch up! (I ran out of thread from the embelishment pack)
I also started on my SIL's christmas piece last night - The Sweetheart Tree's Victorian Roses. Its coming along nicely as well, but I didn't get that much done last night, as it was fairly late when I actually started stitching. I'll post a WIP picture later on, when there is more to show. (For non-stitching people WIP= work in progress)
I also joined a couple of groups specifically geared towards stitcher's blogs, (SBQ - stitcher's blogging question, and the A list) so you will see questions from these groups on my blog on occassion, with my answers - one of which I will be starting today!
This week's SBQ:
Q:Do you always sign your projects? If not, why? If so, do you use your first name, initials or what?
A: I wouldn't say I sign all of my projects. I sign basically everything except ormanemt type projects. Everything else has my name on it (Kati) and the year, usually somewhere not so noticable on the piece. I try to make it so that my name doesn't take anything away from the finished piece. Yes I'm proud of my work, and I would like people to know I did it, but I don't need to shout it from the roof tops!