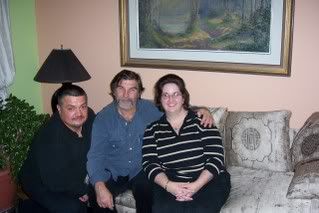 Well it finally happened! I've succumbed to the blogging addiction. Never thought it would get to this, but after reading several stitcher's blogs for a few months now, I felt compelled to finally step up to the plate and make one for myself. Just as a warning for some, I may occassionally post in Hungarian and may or may not translate it depending on my mood (read laziness) but Hungarian topics will come up for sure through out!
Where to start??? I've no clue, but here it goes anyways... We were lucky enough to have a guest performer come to our city from Hungary to put on a concert last night, and I have to say that though there were not as many people as we would have liked, the evening was a success. Everyone enjoyed themselves and that is the important thing. Our guest was non other than Vikidal Gyula. That name may not mean much to non-Hungarian folk, but back in Hungary he is quite well known, especially "back in the day", but still today as well. V. Gyula was at our house for dinner tonight, and I have to say it was a very nice relaxing evening. Good food, good company and of course laughter. We managed to take a few pictures as well, so we can prove to the relatives that we did in fact meet a celebrity!! Its funny, Laci and I lived in Hungary for 8 years, but it took moving back home to Canada to start meeting Hungarian celebrities! We've met more in the few years that we've been back than we did while living there (I won't count the folk music celebrities in here)
Anyways, that's enough for a first post...but I'll defintiely be back!