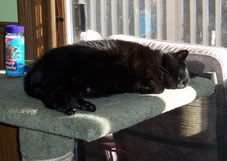 It's November, almost the end of the month, and we had the most beautiful day today! I still can't believe the weather we had! It was +20 C here today, the sun was shinning so bright, it was just awesome! While driving around we had the windows open enjoying a warm breeze and even had to turn the air conditioning on once or twice!! This is not normal weather for Calgary, but I'm not complaining, its supposed to stay for the rest of the week and then snow on the weekend, so I'm going to enjoy it while I can!
My kitty enjoyed the sunshine too today - she was passed out for most of the day, where ever the sun hit... Here she is sleeping soundly on her cat tree in the living room, I'm sure this afternoon she was stretched out on the cat tree in the bedroom becuase that is where the afternoon sun hits... I thought she was so cute that I had to share.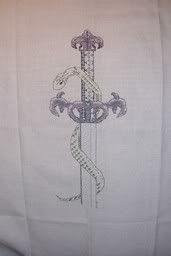 I have a other news as well - stitchy news. I have a happy dance to share! Another christmas gift is checked off the list! I just finished this piece last night for one of my nephews. Its called "The Sword and the Serpent" by Dragonfly Lane. I stitched it on 28 count water lily jobelan. Not sure if all the sparklies show up, but there are a few there. I did a couple of changes to it, in that I changed the colour of the snake completely - I used a darker green for both his outline and his scales and didn't make his eyes red.
I think he turned out great, and I hope my nephew will like him! Now just to get him framed! For those of you wanting to know where I got the pattern, it is a freebie by Dragonfly Lane that I specifically asked Bobbie at Stitching Bits and Bobs to see if she can get, and she did! So thanks Bobbie for helping me out! I originally saw this as part of the sugar shack entries at Sugar Maple Fabrics, and then tracked it down. I should hopefully have another happy dance fairly shortly again as well, as I had to wait on some thread (silk!) to arrive so I could finish my niece's gift, but that will be another blog entry to come shortly!
Tonight family is coming over for dinner, to celebrate my oldest brother's birthday, we're having steak! Yummy! So I guess I should go and help with that before the guests actually arrive! But I will be back! I'm starting to get the hang of this blogging stuff, and am enjoying myself immensely - hope all of you reading this are too!