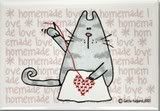 It's PIF time again, as it makes it way through the blogging world again. This time I have signed up at two different blogs, and have added my own little twist to it.
Here we go:
I will send a handmade gift to the first 6 people (since I signed up twice), who leave a comment on my blog requesting to join this PIF exchange. I don't know what that gift will be yet and you may not receive it tomorrow or next week... LOL... but you will receive it within 365 days, that is my promise! The only thing you have to do in return is pay it forward by making the same promise on your blog.

My twist is, since this has been going around a few times now and I don't want to over burden anyone, if you don't want to make a gift and that is a reason that is stopping you from joining, no problem. I would like to ask if you do sign up with me, that when you do your PIF, it doesn't necessarily need to be a handmade gift to someone if you don't want, but a PIF in some other aspect of your life, and be sure to blog about it. It is important to blog about it!
This is such a wonderful idea, and to be able to pass a little happiness to those around us, is a good thing and always worth a try. There are so many ways of PIF other than sending a handmade gift to someone.